Post by mothfrost on Oct 9, 2017 18:16:43 GMT -5
what would they look like, what would their personality be like, their den description, what they love and hate?
mine: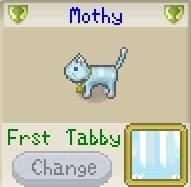 Looks: a pretty frost tabby with a gold bell and folded ears. the bell doesn't make a sound, but its her most treasured Item.
Personality: Mothy is a very Timid she cat, but is very goofy and clumsy once you get to know her.
Den disc.: Mothy's den. the inside is lit up with fireflies that are scattered in the corners! very cozy.
Loves: CatNip, squirrels, and fireflies. "w-wow! for me!? I love it!"
Hates: any other bugs, frogs, black roses, and toads. "h-how could you give this to me!? *sobs*
Neutral to: herbs and berries "huh? th-thanks. I appreciate it."
Dislikes: fish "um...no thanks..."
Dialog : First meet "...um...are you...talking to me? sorry..oh! are you new? I'm mothy...you are..? *insert name*? well um..nice to meet you. I'm not good with names so sorry if I forget."
| Intro 0 stars ".......I have nothing to say to you?"
| Intro 1 & 2 stars "....It was *insertname* right? thanks for talking to me..It's nice to talk sometimes."
| Intro 3 & 4 stars "Hehe. Hi *insertname*! how's my friend doing on a day like this?"
| Intro 5 stars "*insertname*! so happy to see you! we should catch fireflies together sometimes! oh, you wanna chat?"
| Redrose at 5 stars "you- you! you think I-? um um. yes! I would love to date you!"
| Redrose under 5 stars "um....this probably isn't for me..."
| Dating "Hello my snow flurry. hehe. that nickname suits you!"
| shiny trinket at red heart "I-I'm gonna cry! I love you so much! can't believe would love someone like me! yes!"
| shiny trinket before red heart "um...not sure if you should waste that on me.."
| Married "I feel so whole and better about myself now that you are with me, my love~"
|giving a gift "I saw this and HAD to give it to you!....hope's it's okay"
| Summer "*sigh* summer is way to hot...I hate this heat. I hate getting wet, but, I wouldn't mind if you splashed some water on me... "
| Fall "the leaves are so pretty! I should go for a stroll soon" Fall2 "smell the autumn air? I love it!!"
| Winter "Finally winter! It's a bit chilly, but it's my favorite!" Winter2 "I saw a human rolling around in the snow earlier! looked like fun. wanna try?"
| Spring "all the snow melted...I'm a bit sad." Spring2 "the scent of flowers are nice, but, a bit overwhelming don't you think?"
| Snowing "Look! it's snowing!! I feel like dancing!"
| Rain "ugh. I hate getting wet. should have stayed inside."
| Fog "perfect weather for hide and seek."
Bonus: two of the kittens will have folded ears like her!